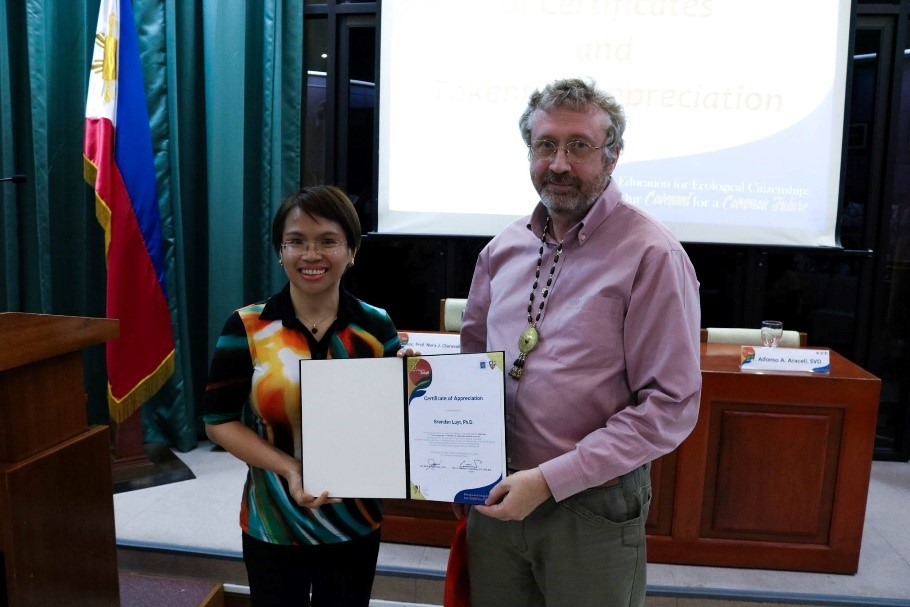 Dr. Luyt receiving his Certificate of Appreciation from Asst. Prof. Tinipunan 
Library and Information Science Colloquy Held at the Miguel de Benavides Library
J. Alba, A. Dy, and G. Lising
   On April 26, 2017, the 2017 Library and Information Science Colloquy: Libraries, Archives, and Museum: A Trivium of Partnership in Nation Building was held at the Miguel de Benavides Library Conference Hall with speaker Brendan Luyt, Ph.D. Dr. Luyt, an Associate Professor at the Wee Kim Wee School of Communication & Information, Nanyang Technological University, Singapore, discussed the purpose of archives and the importance of preserving information as well as the internet's effects on the credibility of information particularly found in Asian countries.

   Also present in the seminar was the Dean of the College of Education, Professor Allan B. De Guzman who gave the welcoming remarks. Assoc. Prof. Nora J. Claravall, Ed.D , Ms. Diana V. Padilla, and Fr. Alfonso A. Araceli, SVD composed the panel of reactors for the colloquy. In his discussion, Assoc. Prof. Brendan Luyt presented three cases showcasing the effects and purpose of archival practices in history preservation.

   The first case focused on the political economy of representation regarding the accuracy of articles. An example given was the case of Cambodia regarding how their history was heavily influenced by the western countries such as the France and America which shows how ill-represented the Cambodians are. The second case was about the history of Cambodia on Wikipedia which shows the perspective of western countries not necessarily the perspective of Cambodia. The last case presented detailed the importance archival practices and how important keeping documents are.